iOS 16.0.2 update! did you know all of these?
iOS 16.0.2 update today is a hot topic, most people are searching on google these days.
Users of iPhones have received the iOS 16.0.2 update from Apple recently.
iOS 16.0.2 is an incremental update. The updated firmware, although tiny, offers some urgently required problem patches. For those who have switched to the company's new operating system.
In light of this, we want to walk you through everything you should know about iOS 16. Apple's most recent update for the iPhone.
We'll go through the followings.
iOS 16.0.2's modifications
Software's current performance
iOS 16.0.2 issues
Jailbreak situation
Review of iOS 16.0.2
The least download size will be displayed if iOS 16.0 or iOS 16.0.1 are the current versions on your iPhone.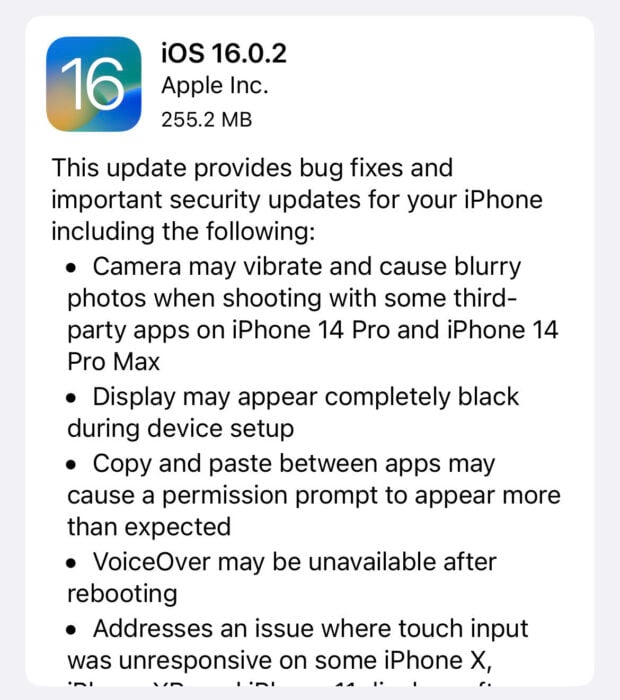 The update download will take up about 250 MB for iOS 16.0 users. For other iPhone models running iOS 16, you may anticipate a comparable size.
Your iPhone model and the version it is presently running will determine the precise size of the iOS 16.0.2 download. You will notice a larger download if your iPhone is running an earlier version of iOS, such as iOS 15 because your update includes the changes from the updates you skipped.
The installation procedure should take no more than 10 minutes if you're upgrading from iOS 16.0 or iOS 16.0.1 (iPhone 14/iPhone 14 Pro only). On an iPhone 12 Pro, the installation process took around six minutes.
Following many days of usage on an iPhone 12 Pro with new updates, here is what we have discovered thus far regarding the software's functionality:
Connectivity
Battery life is consistent.
Connectivity through Wi-Fi is quick and dependable.
The Bluetooth connection is stable.
Both cellphone data and GPS are reliable.
App Improvement
Netflix, Dark Sky, Twitter, Slack, Asana, Gmail, Chrome, and Spotify are among the third-party applications that are now operating without issue.
Additionally stable are first-party software like Safari and Podcasts.
Speed
Currently, it feels just as quick as iOS 16.0.
Install it on your iPhone right now if you've been experiencing problems or poor performance with iOS 16.0.1 or iOS 16.0.
Apple iOS 16.0.2 Issues
Some iPhone owners are experiencing issues as a result of its upgrade. Some issues with iOS are completely new, while others have existed in earlier releases. Battery life concerns, installation troubles, Wi-Fi issues, Bluetooth issues, UI lag, issues with Face ID, and issues with numerous applications are among the current list of bugs.
Features, What's New?
Users of iPhones often receive security upgrades and bug fixes through Apple's point updates. There are bug fixes it, however, there are no new security updates.
Here is the complete change log :
Fixes a bug that might result in fuzzy shots when using some third-party applications to take pictures on the iPhone 14 Pro and iPhone 14 Pro Max.
Fixes a problem where, during device setup, the display can seem to be entirely black.
Removes a bug that might make permission requests appear more frequently than necessary when copying and pasting text across programs.
Resolves a problem where VoiceOver would not be available after a reboot.
There are no new features included in iOS 16.0.2 for the iPhone.
16.0.2 iOS Jailbreak
Make sure to avoid iOS 16.0.2 if you are still jailbroken.
We don't anticipate any time soon that developers will make a tool compatible with iOS 16 available. If you still jailbreak your device, keep a watch out for any updates.
Conclusion
However, with any version update you have, I personally find this iOS 16.0.2 amazing and great to use and work with.
CONTACT:
Swift Technology Pvt. Ltd.
3rd Floor, IME Complex
Panipokhari, Kathmandu
Nepal: swifttech.com.np
Tel: +977-1-4002555, 4002535, 4002538
Mobile: +977 9802096758
Visit our Website: swifttech.com.np
Follow us on: