LinkedIn adds Post-Scheduling, Audio Events
LinkedIn has recently launched a set of new features that promise to enhance the experience of its users. These features are designed to facilitate better communication and engagement, which is essential in today's professional world.
In this blog, we will explore these new features in detail.
Page post-scheduling
One of the most significant features LinkedIn has recently launched is the ability to schedule posts directly from your company's page. Since November 2022, it has enabled post-scheduling features for personal users only. Now, LinkedIn Page admins can also plan Page posts ahead of time, up to 90 days in advance
This feature is a game-changer for businesses, allowing them to plan and schedule their content in advance, ensuring that it is published at the most optimal times. This can save a considerable amount of time for businesses, allowing them to focus on other essential tasks.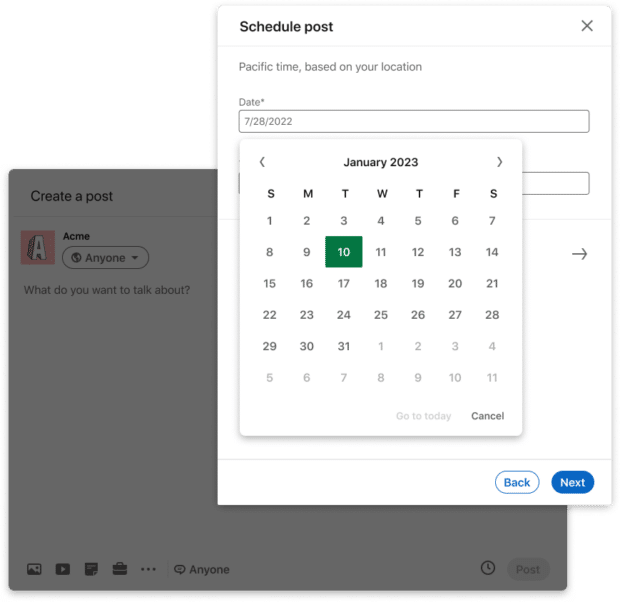 To use this feature, you need to create a post, click the drop-down arrow next to the "Post" button, and select "Schedule post." You can then choose the date and time you want your post to be published. Once scheduled, your post will automatically be published at the designated time.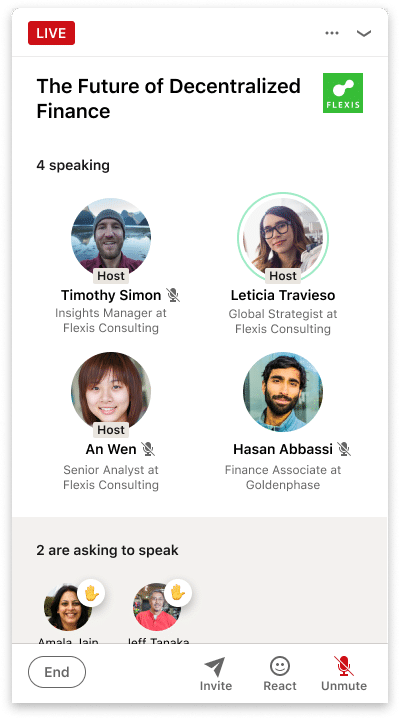 Audio Events
Another exciting feature that LinkedIn has launched is Audio Events. This feature allows users to host and attend live audio-only events on the platform. LinkedIn has joined the trend of audio-only platforms like Clubhouse, Twitter Spaces, and others that have gained popularity in recent years. Audio Events, which was in limited beta testing last year, is now a fully functional feature. This is a great feature for businesses that want to connect with their audience in a more personal and engaging way.
With Audio Events, you can host webinars, Q&A sessions, and other events, allowing you to share your knowledge and expertise with your audience. It's an excellent way to build relationships with your audience and establish yourself as a thought leader in your industry.
If you want to try your own Audio events, just create an event and choose LinkedIn Audio Event under the Event format dropdown menu. If the option is available, you've met the criteria.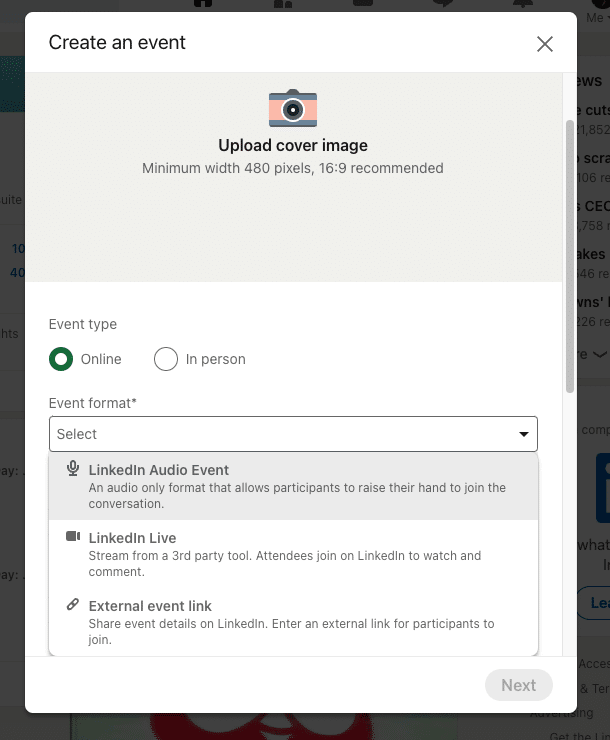 Video Cover Story
LinkedIn has also launched Video Cover Story, which allows users to create a short video introduction that appears at the top of their profile. This is an excellent way to make your profile stand out and give potential employers or clients a more personal introduction to who you are.
To learn more about how to make a video cover story, click this, you can get a walkthrough.
https://www.linkedin.com/learning/linkedin-quick-tips-2022/add-a-cover-story-to-your-profile?autoplay=true&resume=false
To create a Video Cover Story, you simply need to click the "Add Cover Story" button on your profile and record a short video introducing yourself. You can then edit your video and choose the thumbnail that appears on your profile.
Creator mode
Finally, LinkedIn has also launched Creator mode, which is designed to help users grow their audience on the platform. Creator mode adds a new "Follow" button to your profile, allowing users to follow you more easily. It also provides access to new features, such as a "Creator Dashboard" that provides insights into your content's performance.
To activate Creator mode, you simply need to click the "Creator" button on your profile and follow the prompts.
Step 1. Start by going to your LinkedIn profile and clicking on the Me icon at the top of your LinkedIn homepage. Then click View Profile.
Step 2. Scroll down to Resources and click on the button that says Creator mode: Off. Toggle this button to activate creator mode.
Step 3. You'll see a preview of what LinkedIn creator mode will look like on your profile. Click Next.
Step 4. On the next screen, you'll add hashtags to indicate the topics you post about the most. Choose up to five topics and click Done.
Step 5. From there, simply follow the prompts to finish setting up LinkedIn creator mode. And you're done!
Conclusion
In conclusion, LinkedIn's new features promise to enhance the platform's user experience, making it easier for businesses and individuals to connect with their audience. From Page post-scheduling to Audio Events, these features offer a wide range of opportunities to engage with your audience and establish yourself as a thought leader in your industry. So why not try out these new features and see how they benefit you?
Content and Blog Writer: Salina Shree
CONTACT:
Swift Technology Pvt. Ltd.
3rd Floor, IME Complex
Panipokhari, Kathmandu
Nepal: swifttech.com.np
Tel: +977-1-4002555, 4002535, 4002538
Mobile: +977 9802096758
Visit our Website: swifttech.com.np
Follow us on: